On a lovely Sunday, July 21, 2019, North Sydney Masters took a team of 33 swimmers to the Relay Meet at Woy Woy. It was a balanced team with 16 women and 17 men; there was a mix of experienced and novice swimmers; and our ages spanned from the 20s to the 60s. In particular, we welcomed to the team new members Faye Hurwitz, Emily Barlow, Marta Del Pozo Fonseca, Thomas Dinard, Angus Baldwin and Justin Lin who all contributed well to our overall performance.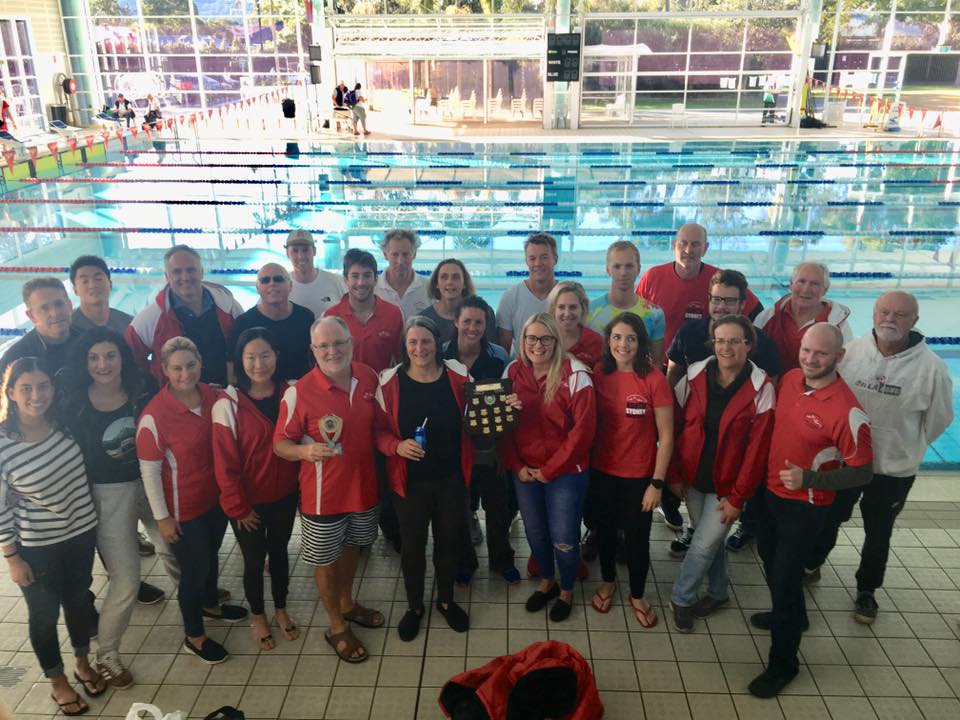 The team performed superbly. We had to make some late changes yet people adjusted to the amendments and got on with the job. Some noteworthy elements were:
Of our 37 teams, 17 (or 46%) were first placed; and 29 (78%) were placed in the top three.
Five swimmers were in teams which all won: Amber Kelly, Rowena Solomons, Michelle Hallit, Fiona Reed and Vicky Watson.
There were some fine individual efforts such as Amber's completion of the Fly leg in the 4×100 Medley women 120+.
Our 4×25 medley Mixed 200+ team of Christina Echols, Colin Reyburn, John de Vries & Fiona Reed blitzed a field of 8 teams in the smart time of 1.04.4
A superb sight was the 4×100 Mixed Medley 200 + team of Vicki Watson, Simone Salier, John de Vries & John Kain who personified the essence of Masters swimming: that adults in their 50s & 60s can enjoy competition swimming and demonstrate mastery of their specialist stroke. Their time of 4.28.42 is an impressive one.
Yet our overall effort was based on factors beyond excellent performances. The sheer number of our individual relay teams, some placing fourth, fifth and sixth, indicated the depth of this North Sydney Masters team. The commitment of everyone to do their job in the various "little teams" of four swimmers contributed to a fine whole team performance.
In the end North Sydney Masters triumphed. The point scores of the top three clubs were thus:
North Sydney Masters 650
Wett Ones 612
Warringah Masters 586.
Congratulations to all the members of the North Sydney Masters team who won the NSW Masters Relay Meet, 2019.
Yours in swimming,
Damian Asprey,
Co-Captain, 26.7.2019