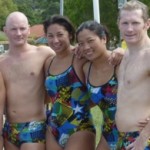 Team! This year's annual North Sydney Masters Mollymook Training Camp and Fun Times will fall on the weekend of the 1st, 2nd and 3rd of March.
 For those of you unfamiliar, each year the club hires a bunch of share houses down the coast in Mollymook/Ulladulla and take over the beautiful Ulladulla swimming complex for a couple of training sessions. The rest of the weekend is consumed with general South Coast fun time activities.
Bob and I make up the organising committee this year and will be booking a number of share houses before Xmas, so although it's early, if you're pretty interested in coming please let me know now so we can get rough house numbers early. If you'd rather organise your own accommodation, that's fine to and you'll pay a reduced fee. We organise car pooling so don't worry if you don't have your own transport.
This is more of a social holiday activity than serious training camp so all activities are optional and you can bring families, lovers, wives and dogs. No one has ever brought a cat. Or a bird.
Costs last year were $145 per person for accommodation and the meal on Saturday night. Last year we reduced prices but everyone had to pay for both breakfasts, this was quite successful so I think we'll be doing the same thing this year.
Here's a basic schedule, just to give you the idea. All venues are currently unknown as Bob and I can't really book anything until we get rough numbers.
· Arrival.
· Meet for a Meal/Drink at the golf club if you get down early enough.
· 9am at the outdoor 50m pool with 
Kevin
 the Coach for 1 ½ hour of swimming 
pain
 fun.
· Post-Training Brunch with the team.
· Happy afternoon doing one or more of the following with your swimming mates or solo
(a)    beach
(b)   hiking in a national park or Pigeon House Mountain
(c)    playing golf
(d)   playing bowls
(e)   surfing
(f)     sleeping
(g)    whatever else you care to do.
· 7pm meal and drinks with the team at a local restaurant, pub or club.
· [Post-restaurant early night or drinking and/or dancing and/or board games and/or late night nudie swimming.]
· 9am at the outdoor 50m pool with Kevin the Coach for 1 ½ hour of swimming fun (usually a bit easier than Saturday's session!)
· Post-Training Brunch with the team.
· Anything you want to do before heading back up the road to Sydney.
Colin and Bob
– Mollymook and Marlin Organising Committee –